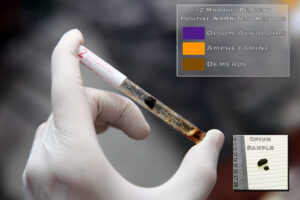 Image credit: "Opium Presumptive Drug Test" by Jack Spades is marked with CC PDM 1.0
The government proposes a new regime for how the criminal justice system deals with drug possession offences for so-called recreational users.
Fundamental to this new regime is ensuring that drug users are more likely to be caught, and that they face tougher and more meaningful consequences than today. The government wants to see swift and certain interventions delivered which can deter drug use and, alongside other measures, reduce demand for drugs.
How are drug offences dealt with now?
In the year to March 2021 there were 166,618 police recorded crimes for drug possession. This accounts for 80% of overall police recorded drug offences, and 3% of overall crime.
In 2021, 25,836 individuals were charged for drug possession offences and 22,255 individuals were sentenced, of which, 60% received a fine.
Around one in five adult drug offenders reoffend within a year. Of those re-offences, around one in four are drug related. Furthermore, drug re-offending is often more problematic than other crime types. For example, 2020 figures reveal that 59% of those cautioned for a drug offence were reoffenders compared to those cautioned for all other crimes (45%). Finally, government is concerned that the re-offending rate for drug offences has remained stubbornly stable over the last decade, suggesting reform is necessary.
The new approach
According to the government, "Consequences should be tough, but they should also be fair and meaningful."
Where appropriate, all first-time drug possession offenders should receive a tier 1 intervention. A second drug possession offence will attract a tier 2 intervention, and a third offence will receive a tier 3 intervention.
These are as follows:
• Tier 1: A person should be issued with a fixed penalty notice as an alternative to prosecution, which requires them to attend and pay for a drugs awareness course. If they do not attend the course, they will pay an increased financial penalty. Failure to pay will result in the fine being registered at court for enforcement or prosecution for the original offence.
• Tier 2: Instead of being charged, a person would be offered a caution which would include, where proportionate, a period of mandatory drug testing alongside attendance at a further stage drugs awareness course.
• Tier 3: A person would likely be charged for their offence. On conviction, a new civil court order could be applied for which would enable the court to impose the following conditions: (i) exclusion order; (ii) drug tagging; (iii) passport confiscation; and (iv) driving licence disqualification.
In addition, the government proposes some important changes to powers for drug testing on arrest to ensure the police can drug test a wider variety of individuals.
The consultation on the government's drugs White Paper is open until 10 October 2022, with a response likely early next year. Therefore, any substantive legal changes are some time off.
How can we help?
We ensure we keep up to date with any changes in legislation and case law so that we are always best placed to advise you properly. If you would like to discuss any aspect of your case, please contact any member of our vastly experienced Criminal Defence team, for assistance with any criminal law related matter.
–
Mr John Stokes (John.Stokes@danielwoodman.co.uk),
Mr Anthony Pearce (Anthony.Pearce@danielwoodman.co.uk) or
Mr Daniel Woodman (Daniel.Woodman@danielwoodman.co.uk).